So. Friends, we have to talk very briefly and very intensively about the vegan couscous salad with peach, mint and lime dressing . Yes, that's right, salad-talc is on the program today.
Because: I do not know if it's the combination of juicy-sweet peach, cooling mint and crunchy paprika, the ingenious lime dressing or the overall package. But this salad is just a bomb. Oh yes, for this treat I put my hand in the fire. Because I mean: If you are not the star of the barbecue, then I do not know how to continue.
Sweet and savory and juicy and minty and fruity filling and perfect for the summer!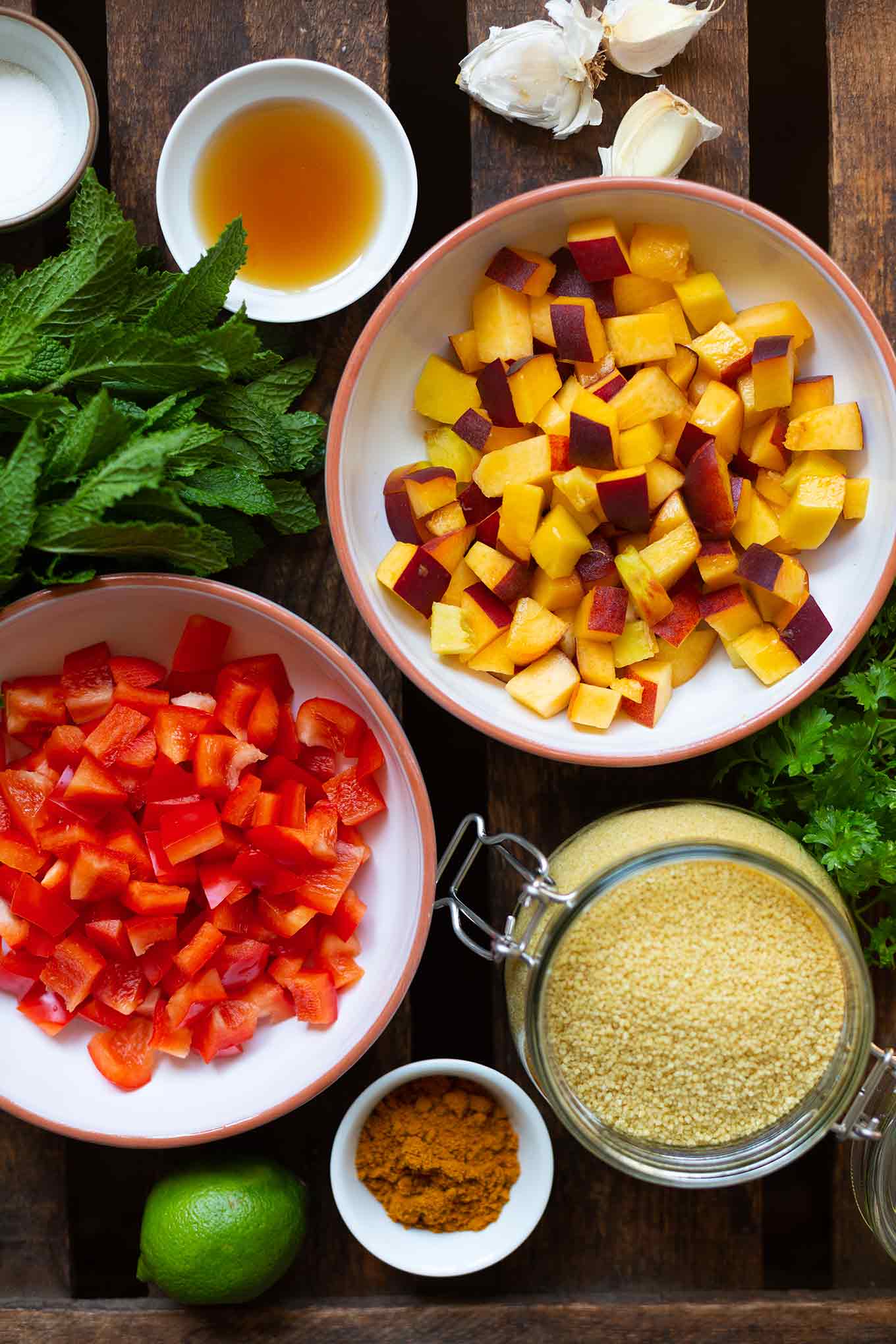 Ok. Let's take a look at the ingredients list for this dream of a summer salad:
Couscous. The base for our salad and wonderfully filling.
Peach. The riper, the sweeter, juicier and better!
Mint. Of course I worked hard for you and tested different mint varieties. Ok, actually there were only those and sometimes those. But I can tell: By far the best for the salad is spearmint, because it is even sweeter and less spicy. Absolutely strike, if you get a pot in the fingers.
Paprika. Red and crisp and delicious.
Lime. I swear to you, the lime makes the dressing perfect, so do not swap.
Curry. The spicy powder gives the sauce a great deal of flavor and a great color.
Sounds damn delicious, right? And people, it gets better. The preparation is mega easy!
You get the couscous with vegetable stock, peach, peppers and herbs and mix the dressing. Then you mix all the ingredients in a large bowl. Done is the arbor.

I hope you will love this recipe!
Couscous salad with peach, mint and lime dressing is:
Super Simple.
Refreshing.
Vegan.
Hearty and sweet at the same time.
Packed with juicy pieces of peach, cooling mint, diced peppers and a filling couscous.
Perfect for picnics, barbecues and Co.
You tried this recipe? Then let me know! Comment, rate and do not forget to tag your photo on Instagram with #kochkarussell . Thank you, dear ones!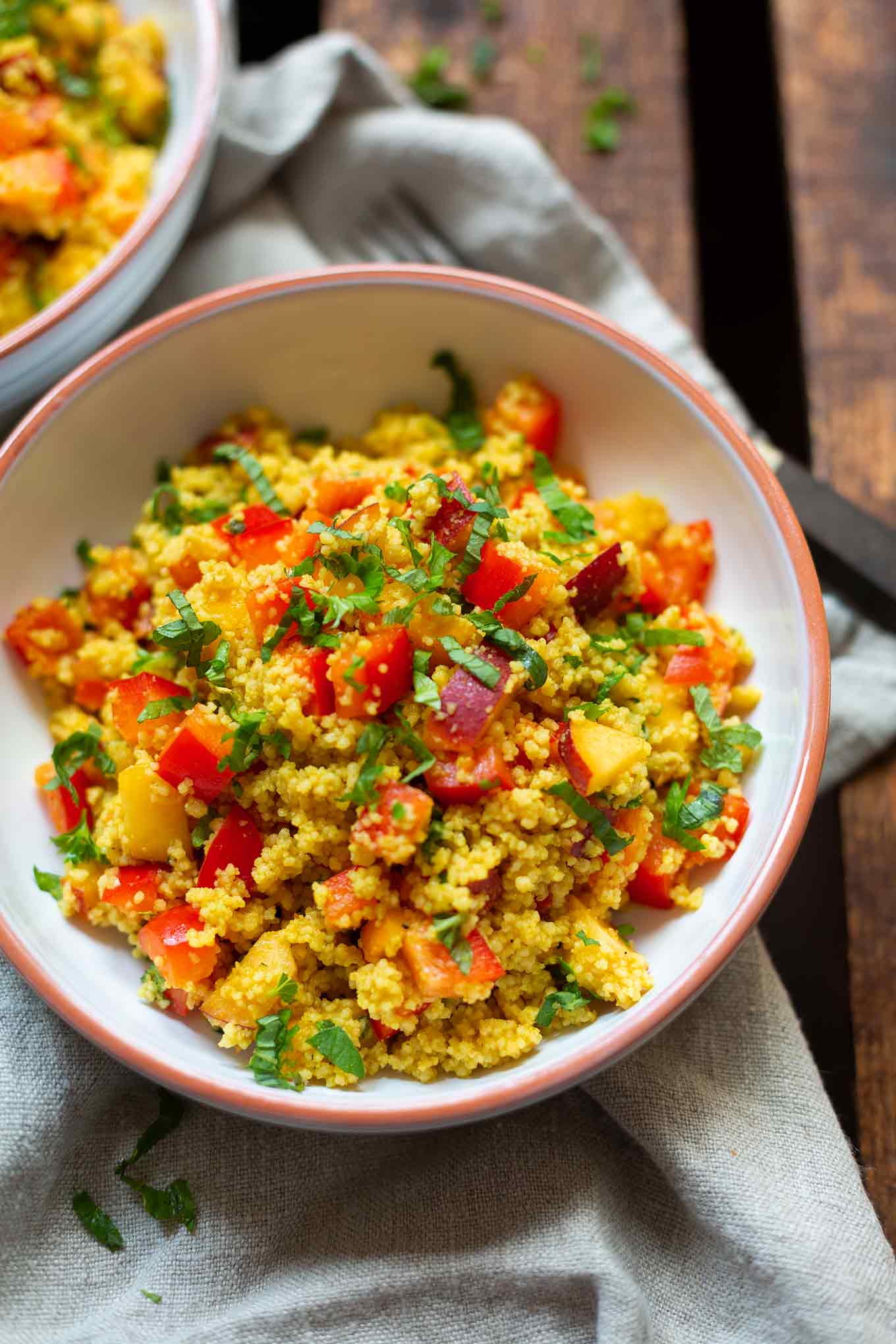 Print
Vegan Couscous Salad with Peach, Mint and Lime Dressing
Vegan couscous salad with peach, mint and lime dressing is super simple, juicy and perfect for barbecues and picnics. Be sure to try!
Ingredients
200




g




couscous

500




ml




vegetable broth

1




red pepper

2




Peaches

1




large handful of mint

1




Handful of parsley

1




Garlic clove

1




Lime




pressed

2




EL maple syrup

3




TL curry powder

3




EL olive oil

Salt and pepper
Instructions
Couscous and let hot vegetable broth into a large bowl and let it steep.

Meanwhile, pepper and peaches are washed, cored and diced. Wash herbs, shake well dry and cut into thin strips. Peel garlic.

Mix garlic, 1 teaspoon salt and remaining ingredients with the food processor to a creamy dressing.

Giving vegetables, herbs and dressing to a couscous. Peppers, mix and, if necessary, season with salt and pepper. Enjoy.
Mia's Tips
The salad keeps itself airtight packed for a few days in the refrigerator.
A tasty feta tastes delicious as well.
PS: Remember, tomorrow starts the #FKLGChallenge and only now you can dust off a terrific goodie. All info and the eBook can be found in the Challenge Announcement . So, go there!