Red Thai curry with zucchini .
That means heavenly thick, bubbling sauce, which becomes incredibly aromatic with red curry paste, ginger, garlic and onion. In addition, coconut milk, which makes the whole wonderfully creamy. Zucchini provide us with proper vegetable power and on top we sprinkle a little more coriander. Because, um, coriander and curry is just LOVE !?
Bonus: For the whole recipe we only need 8 ingredients and 20 minutes time.
Ohhh yes autumn, so we're so ready for you!
Hand on heart? Cooking and shopping I'm currently not really the flow. I already told you at the Mango Kokos Overnight Oats that at the moment I spend a lot of time at the university with evaluations for my master's thesis in addition to working for the blog and orders for clients ,
That also means: I'm quite often not home for a long time. And somehow I just can not get it to go shopping reasonably planned.
So I come home in the evening and have two options. Number 1 would be to jet again to the supermarket around the corner and quickly get some ingredients. Number 2 (honestly the much more common variant): I just throw something out of the ingredients that we have right there.
Sometimes that ends up in Banana Peanut Butter Sundae with raspberries (but hey, the frozen bananas had to go anyway) and I'm glad it's something cute for dinner there.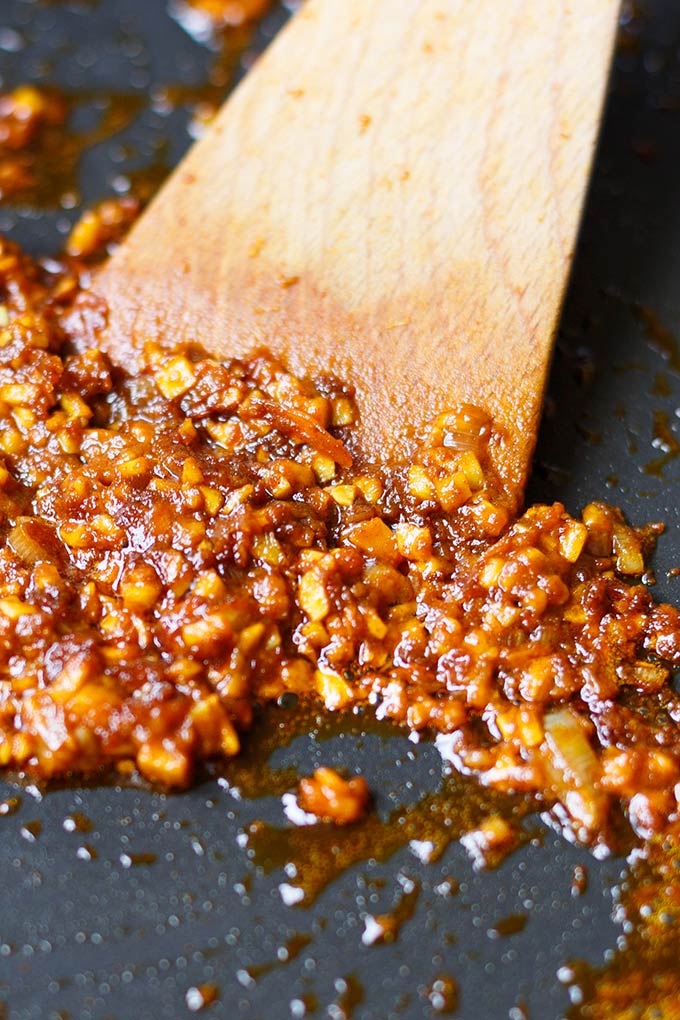 And sometimes, yes sometimes, the very best dishes are created in just such situations. You can imagine what I'm talking about, right?
Ohhh yes friends! This bombastic delicious, simple and all around loud red Thai curry with zucchini is the result of "Okeee, we still have two zucchini, nn bits of coconut milk and, oh yes, there behind the noodle packs I also see red curry paste". Sometimes improvisation is best!
Ready for the secret ingredients for the perfect Thai curry?
Quite simply: onion, garlic and ginger for extra flavor and a good red curry paste, which neatly nourishes the whole thing. On top of that, full-fat coconut milk makes the sauce fantastically creamy and a dash of fish sauce completes the taste.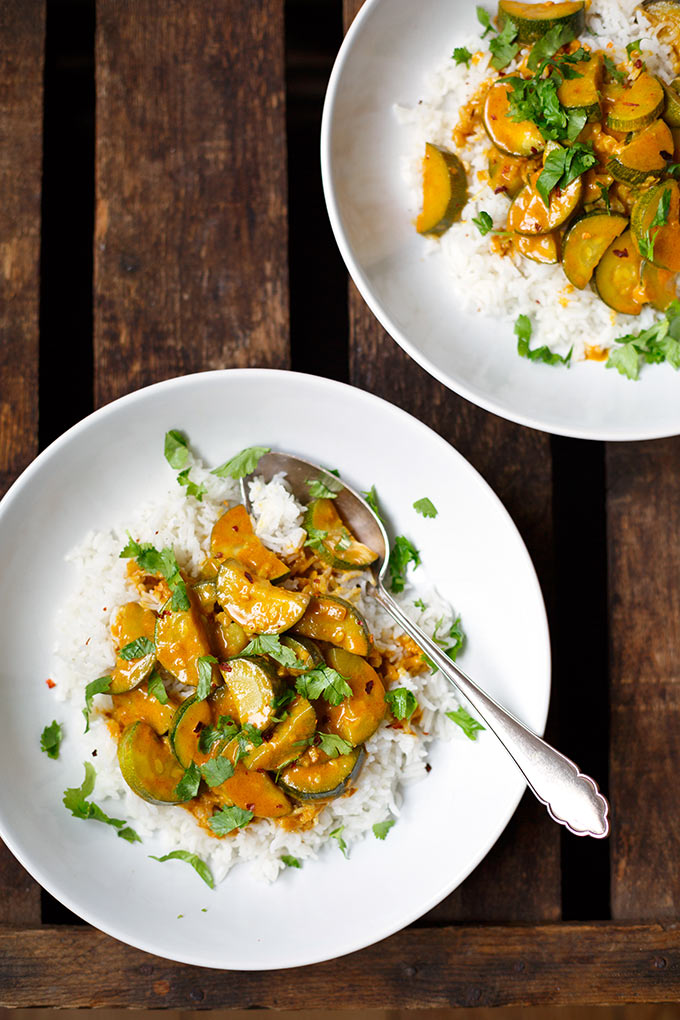 For this recipe you only need a pan , 8 ingredients and 20 minutes time.
And this consistency! The bubbling sauce overcooks in a few minutes to thick, velvety-creamy delicacy. A little rice and your spontaneous dinner is so delicious that you want to eat Thai curry every night from now on. ?
Red Thai curry with zucchini is:
Super simple.
Creamy.
Coconut.
Curry paste and ginger a bit spicy and aromatic.
The perfect after-work meal.
You tried this recipe? Then let me know! Comment, rate and do not forget to tag your photo on Instagram with #kochkarussell . Thank you, dear ones!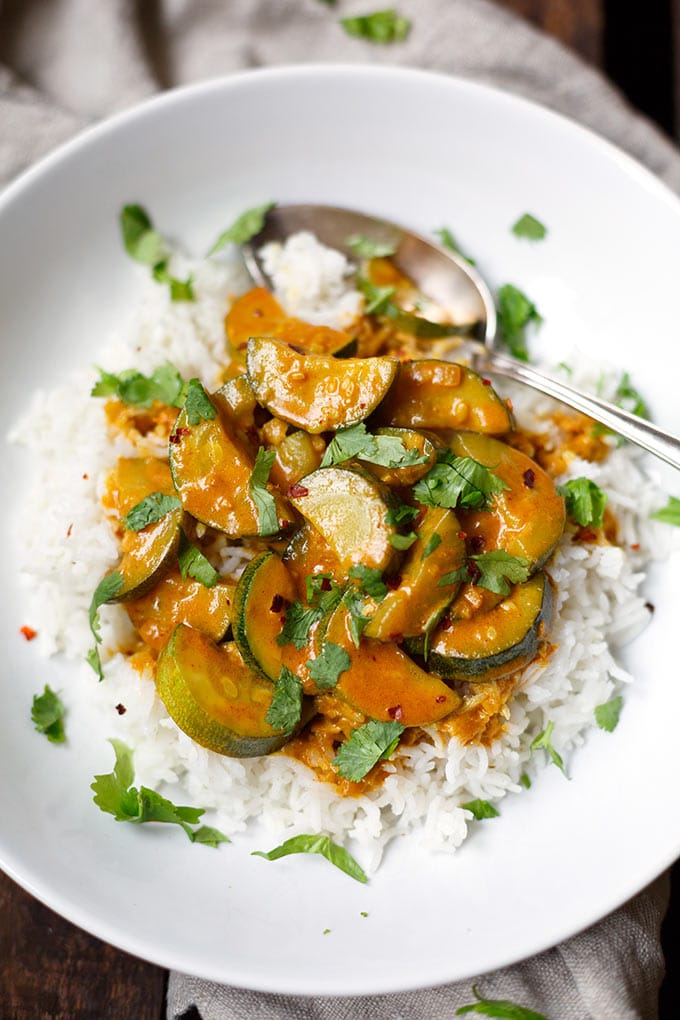 Print
Red Thai Curry with Zucchini
Red Thai curry with zucchini, coconut milk, red curry paste, ginger and garlic. Super easy, fast and perfect for after work.
Portions : 2 Portions
calories per serving : 529 kcal
Ingredients
1




Garlic clove

1




Shallot

1 5




cm




Piece of ginger

1




large coconut oil

2




TL




red curry paste

250




ml




Coconut Milk

2


Zucchini

fish sauce

rice for serving
How-to
Garlic Peel the shallot and finely dice. Ginger peel and finely chop.

Heat oil in a large pan. Add the garlic, shallot, ginger and curry paste to the pan and fry briefly. Add a sip of coconut milk and crush for 2 minutes.

Meanwhile, cut the zucchini into pieces. Add remaining coconut milk and zucchini and simmer until the zucchini are done.

Season with fish sauce and chilli. Enjoy.
Mia's Tips
Serve with Rice. Coriander tastes world-class.