Cozy comfort food or good intentions? This decision is difficult for us in the current grubby weather. But why actually or ? The quick chickpea pan with yogurt is warm, healthy and spoils you with an extra portion of hearty vegetables in an easy way.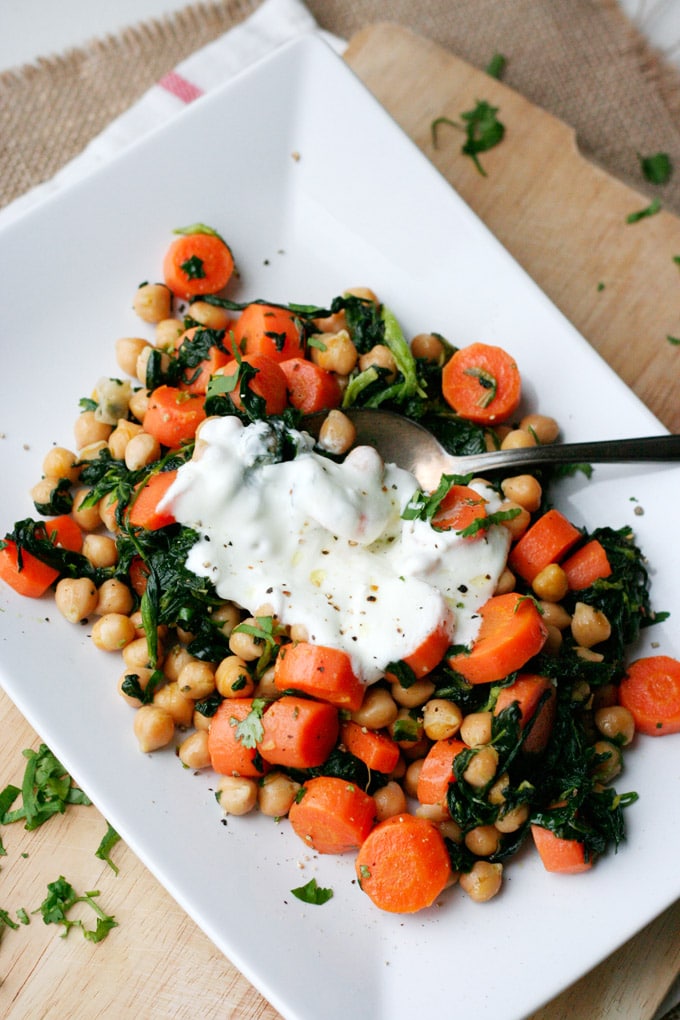 Is it raining in your tour? It has been drizzling here for days and the view from the window reveals that things will go on like this. How good that we can make ourselves comfortable on the couch during this rainy weather. My favorite sofa escort is currently a cookbook. And not some cookbook. For me, it's THE cookbook discovery of the past year:
Cookbook Highlight Delightful Vegetarian
Deliciously Vegetarian * by Yotam Ottolenghi is an absolute cracker! Beautiful pictures and exciting, vegetarian recipes. The dishes take us into the middle of a bazaar in the far East full of fragrant spices, colorful colors and unexpected taste combinations.
What may it be for you? Eggplant with buttermilk and pomegranate seeds? Caramelized fennel with goat cheese? Honestly, I have never heard of most of the recipes and that's what fascinates me. Sweet potato wedges with lemongrass crème fraîche, soba noodles with eggplant and mango or fried white beans with feta, sorrel and sumac? Hell yeah!
Fast, healthy and perfectly varied
In search of a quick recipe I tried the chickpea pan with yoghurt. I especially like the recipes that they can be easily adjusted. Instead of chard, I used spinach and spices, which I still had in the house. My dears I tell you, the quick chickpea pan is unbelievably good. From me there's a big fat recommendation. For recipe and book, you definitely will not regret it.
For the chickpea pan with yoghurt, fry the carrots in olive oil for a few minutes. Then add chopped leaf spinach and chickpeas and allow them another five minutes in the pan. While you are snuggling around in the pan, mix yoghurt and olive oil and season with salt and pepper.
Next you season the chickpeas with garlic, lemon juice, coriander leaves and coriander or cumin. Finally, you set the vegetables on large plates and topped each serving with a dollop of yogurt. Ready is the light treat from 1001 night.
The fast chickpea pan with yogurt is healthy comfort food like 1001 nights. Crunchy carrots, filling chickpeas, spinach leaves and a dollop of yogurt, take you on a taste journey of a special kind.
Print
Quick chickpea pan with yoghurt
Portions : 2 Portions
calories per serving : 664 kcal
Ingredients
4




medium sized carrots

60




ml




Olive oil

250




g




Leaf spinach

350




g




Chickpeas from the tin

100




g




Greek yogurt

1




EL




Olive oil

1




Garlic clove

1




EL




chopped coriander green

Juice of 1/2 – 1 lemon

Coriander or cumin

Pepper and Salt
Instructions
The Peel carrots and cut into 1 cm pieces.

Heat olive oil in a large pan. Sauté carrot pieces over medium heat for 5 minutes.

Add leaf spinach and chickpeas and cook for a further 5 minutes over medium heat.

Meanwhile mix the yoghurt with olive oil and season with salt and pepper.

Add crushed garlic, fresh coriander and lemon juice to the chickpeas. Season with ground coriander or cumin, salt and pepper.

Spread the vegetables on a plate and top it off with a pinch of yoghurt. Drizzle with a little olive oil and serve.
Mia's Tips
As a side dish, couscous, for example, is wonderful.
Need more Soulfood? How about the vegan red lentil curry with leaf spinach or the Indian chickpea curry ? Guaranteed currytastic good!
My dear ones, do you feel like light comfort food right now? And who can I offer a bowl of chickpea pan?
* = Affiliate Links