To all cheese fans and lovers of gratin: I have something for you. The Parmesan Rosemary Buns are your dream come true of soft, fluffy dough and a crunchy layer of cheese. How good that the small cheese slugs are done in an instant. The first portion is plastered faster than you can watch.
Is there anything that does not get any better when we bake it? I'm claiming yes, with properly baked cheese everything tastes better!
The delicious cheese snails are the best proof. Spicy Parmesan and rosemary provide a cheesy crunchy layer. On top of that, there is a little coarse sea salt and a few drops of olive oil.
The Parmesan Rosemary Buns taste best fresh from the oven. Add a little extra olive oil and the extra-cheese snack is ready.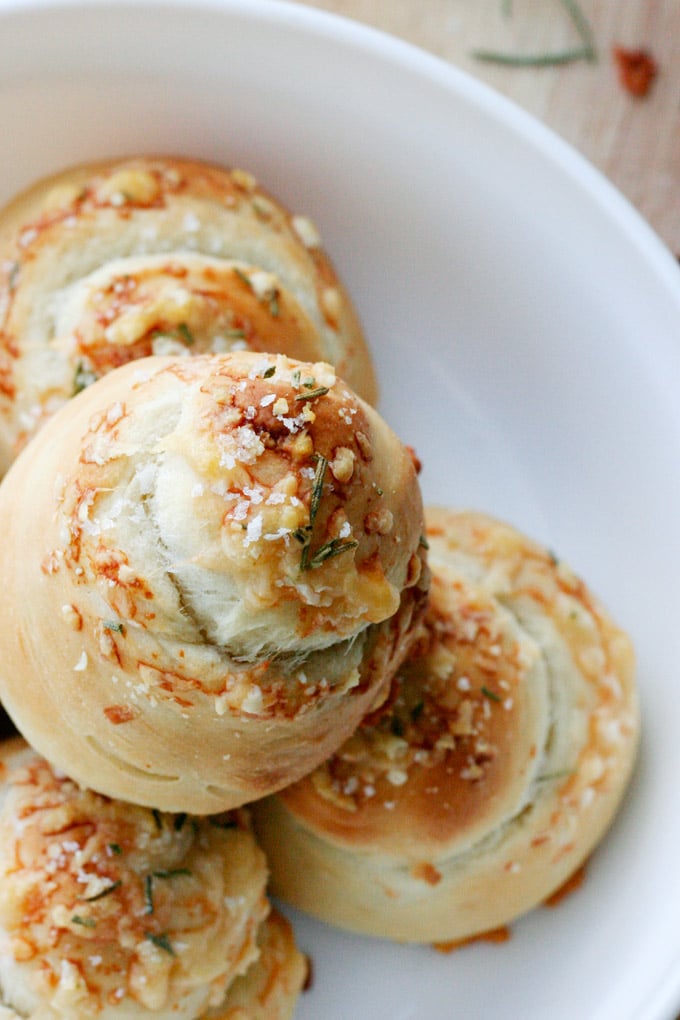 Soft, fluffy dough and a crunchy Parmesan crust, the Parmesan Rosemary Buns are made quickly and plastered even faster. Treat yourself to the delicious snails as a side dish to Salat , soup or just like that!
Print
Parmesan Rosemary Buns
Working hours
1 Std. 15 Min.
Portions : 12 Buns
calories per serving : 182 kcal
Ingredients
240




ml




warm water

1




EL




Honey

1




EL




Dry yeast

330




g




flour

1




TL




salt

4




EL




Olive oil

60




g




Parmesan

1




TL




fresh rosemary

Coarse sea salt
Instructions
Water, Mix honey and yeast in a large bowl. Leave in a warm place for five minutes until the yeast starts to work and forms small bubbles.

Add flour, salt and oil. Mix well and knead until a smooth, non-sticky dough is formed. Otherwise, add some flour.

Cover the dough with cling film or a kitchen towel and leave to soak in a warm place for one hour. Preheat oven to 190 degrees

Preheat oven to 190 degrees.

Divide the dough into 12 equal pieces. Form each piece into a finger-thick sausage and roll up in a spiral. Place on a baking sheet covered with baking paper and sprinkle with 40 g parmesan, rosemary and sea salt.

Bake the slugs for 7 minutes, then sprinkle the remaining Parmesan over the slugs and bake for another 8 minutes until the Parmesan Rosemary Buns are golden brown and crispy.
Mia's Tips
If you're in a hurry, you can also make little balls out of dough. Of course you can also take any other cheese instead of Parmesan. We have also baked the rolls with Gouda and Cheddar, because your cheese preferences are no limits.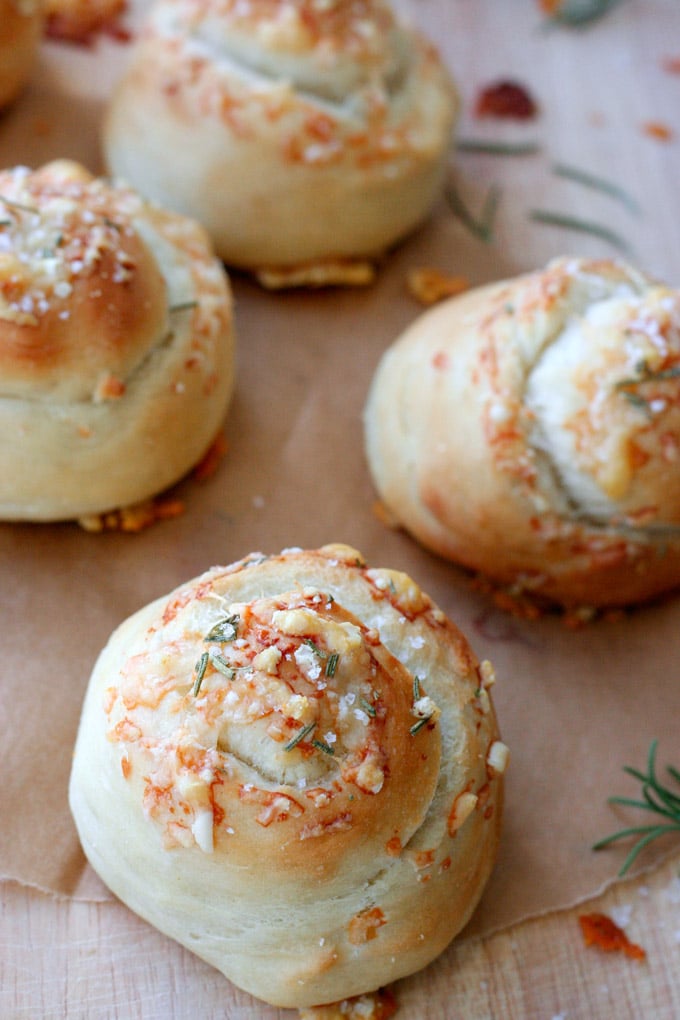 Why do not you indulge yourself tonight with a large sheet of delicious cheese snails? The Parmesan Rosemary Buns are ideal as an appetizer, TV snack, takeaway or quick side dish. Even more luck in snack form complacent? How about the Focaccia with Roasted Garlic and Rosemary or the Rosemary and Sea Salt Flatbread ?
If you touch the dough now, you can reward yourself with the little delicacies in 1 1/2 hours, so let's go! Let it taste great and enjoy these fluffy soft breads dear ones.
Where are the cheese fans? And who can I send over some delicious Parmesan Rosemary Buns?