Oh guys, what am I excited about! Today is not only my second working day as a completely independent food blogger (wohooo), but also the beginning of a new, exciting and damn delicious challenge. May I introduce: Fast and Fresh January .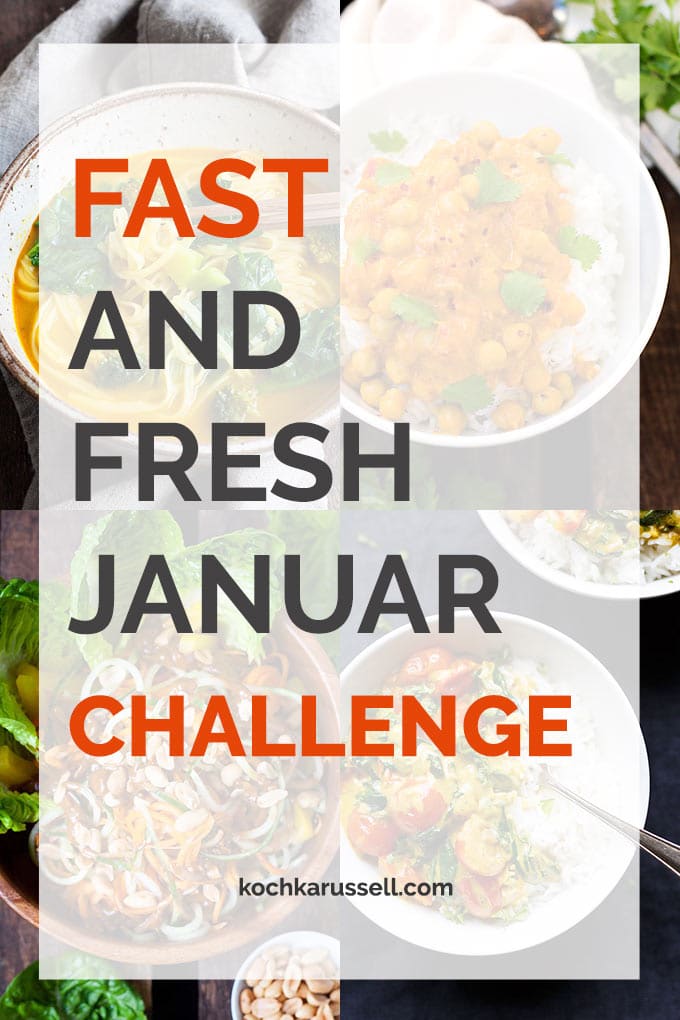 What is the Fast and Fresh January?
Very important: The Fast and Fresh January is not a diet program. But on the contrary. We do not try to eliminate food from our diet, but to incorporate as many healthy, colorful and delicious ingredients as possible.
In order for this to work, I will provide you with recipes throughout January …
1. fresh, healthy and long-lasting
2. be on the table in at most 30 minutes
Sounds good? Top!
What rules are there?
1. Do something good with fresh, colorful and really delicious food as often as possible.
2. Do not be too strict. You know yourself what and how much you are good and snacks and Co. are expressly allowed.
How can I join?
1. In January, include as many healthy, fresh and colorful meals as possible in your diet.
2. Enjoy the fresh, fresh and delicious Challenge recipes throughout January.
3. Report in the comments here on the blog or on Instagram with the hashtag #KKfastandfresh , how the challenge runs with you.
And so you do not have any idea what to cook on the first day of the Challenge, I've written you my favorite quick and fresh recipes. You'll find ideas for breakfast, lunch and dinner, and none of the recipes will last longer than 30 minutes.
It's best to pick out a few recipes so you can start full steam ahead in the first month of the year!
Breakfast
Lunch
Dinner
[19459006 ] What's Next
You've picked some quick recipes for the next few days and you want to pamper yourself in January so delicious, fresh and healthy? World class, welcome to the team #KKfastandfresh ! Together we rock the Fast and Fresh January stuff like that.
Tomorrow I'll serve you the first Fast and Fresh January recipe and I can tell you so much already: It's going to be sooo delicious! So, have a look, I'm looking forward to seeing you. ♡