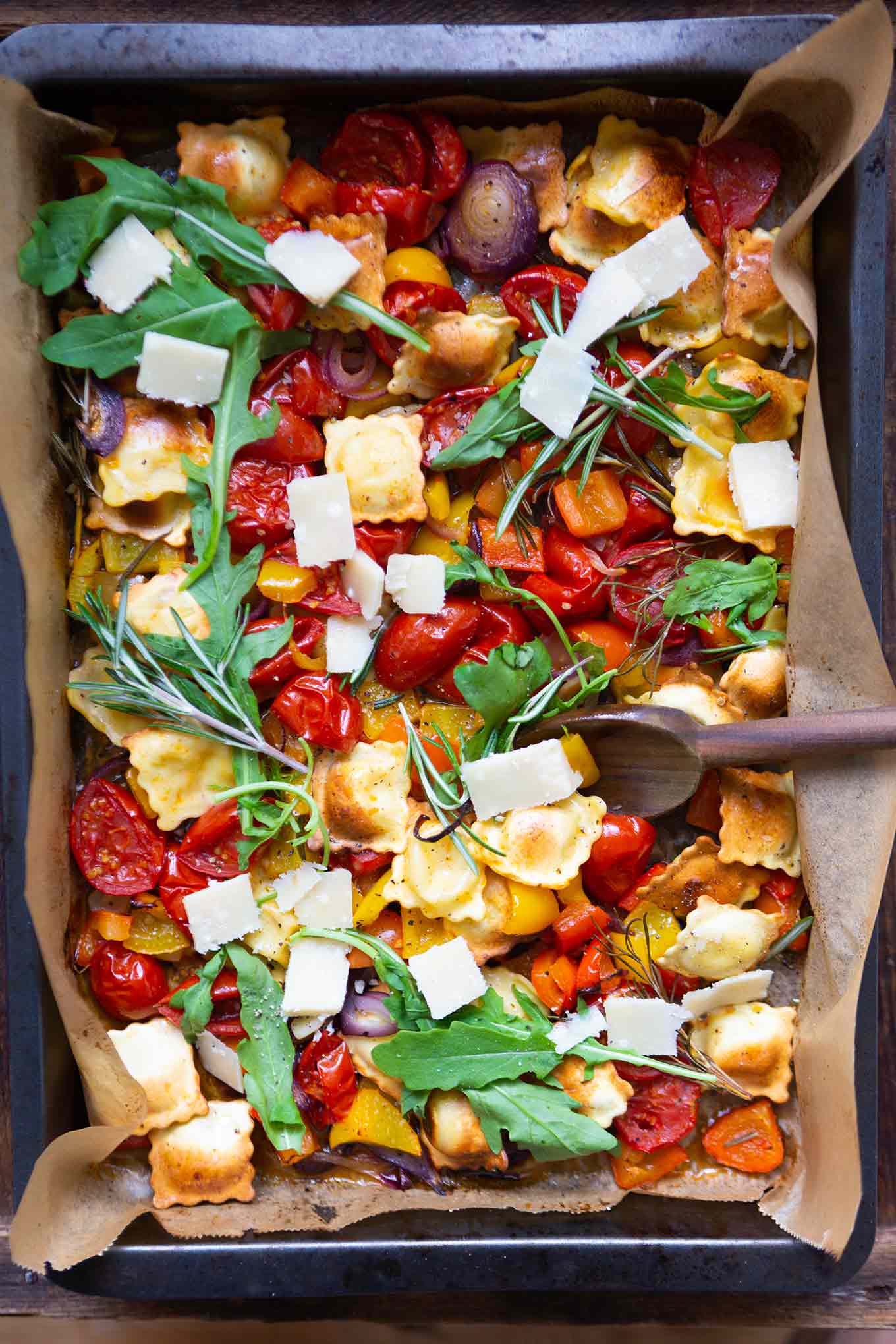 A sheet metal recipes are my life. And these one-sheet ravioli with tomatoes, peppers and rocket are all I can think of. So, now it's out.
But let's be honest: You can not resist the big tin with tomatoes, peppers, red onions and ravioli baked in plenty of olive oil, Knobi and rosemary, right? If spicy arugula and freshly sliced ​​Parmesan pieces are also involved in the game, a very large taste cinema is inevitable.
Best of all, you only need 15 minutes preparation time for this baby. So, let's do it!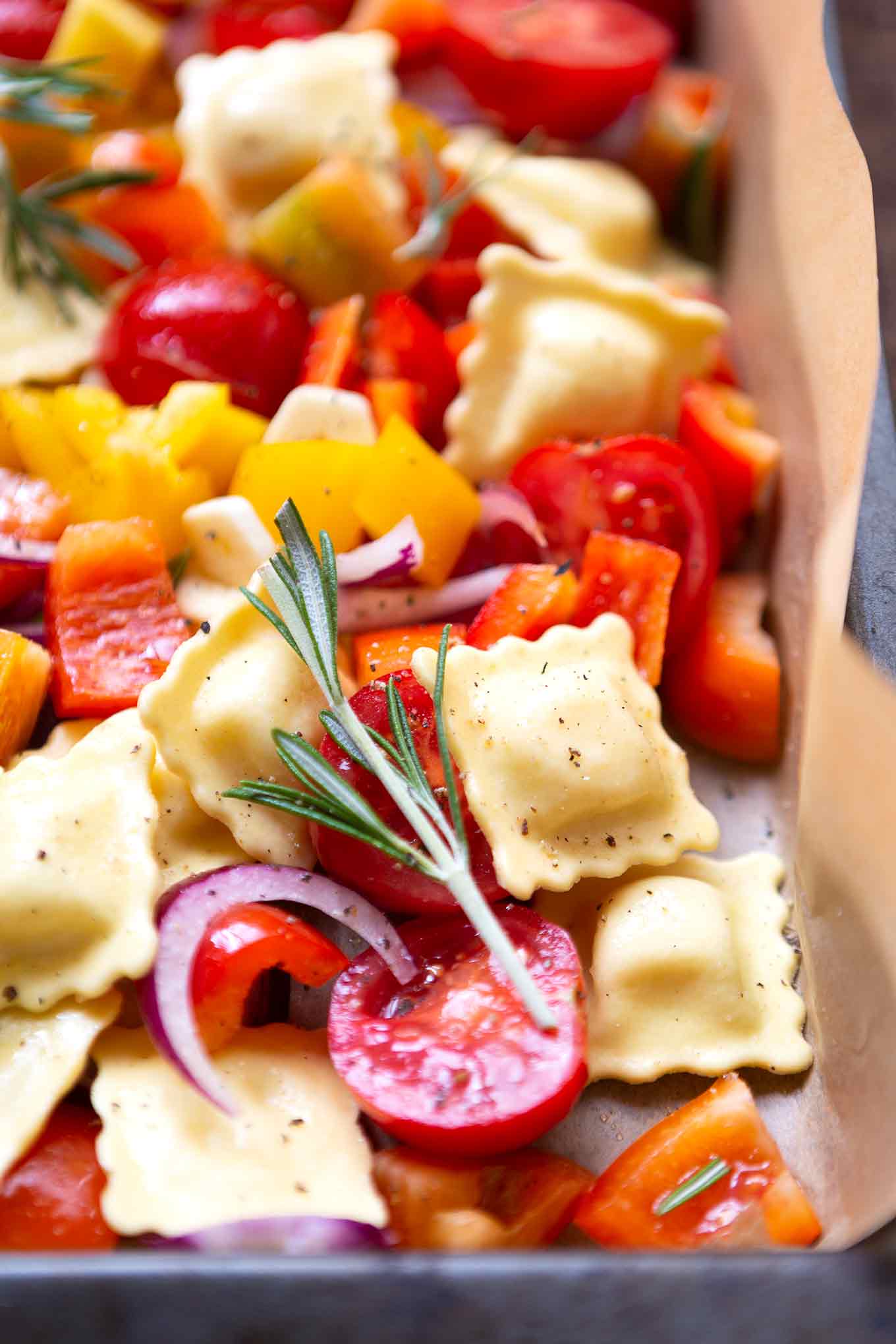 Okay. After clarifying that this recipe is perfect for No desire to cook days , let's talk about the ingredients. For the A Tin Ravioli you need:
Ravioli. My favorites are four cheese and spinach ricotta, happy to be ready from the fridge.
Paprika. Now there are even fresh regional ones on the market, so come on!
Tomatoes. Same game as the peppers. Colorful look very pretty, cherry tomatoes give extra flavor.
Onions. I like red onions for a tin recipe, but they do the normal ones as well.
Olive oil, knobi and rosemary. Our speedy taste turbo.
Rocket. The spicy salad makes for an extra kick of freshness.
Parmesan. Because cheese makes everything better.
Sounds easy? Is simple! Now all you have to do is a) puff all the ingredients except rocket salad and parmesan, b) mix on the baking tray and c) bake. For the grand finale you pile up plenty of rocket and Parmesan on the tin, mix everything again and it's done.
So friends, ran there. You definitely will not regret it!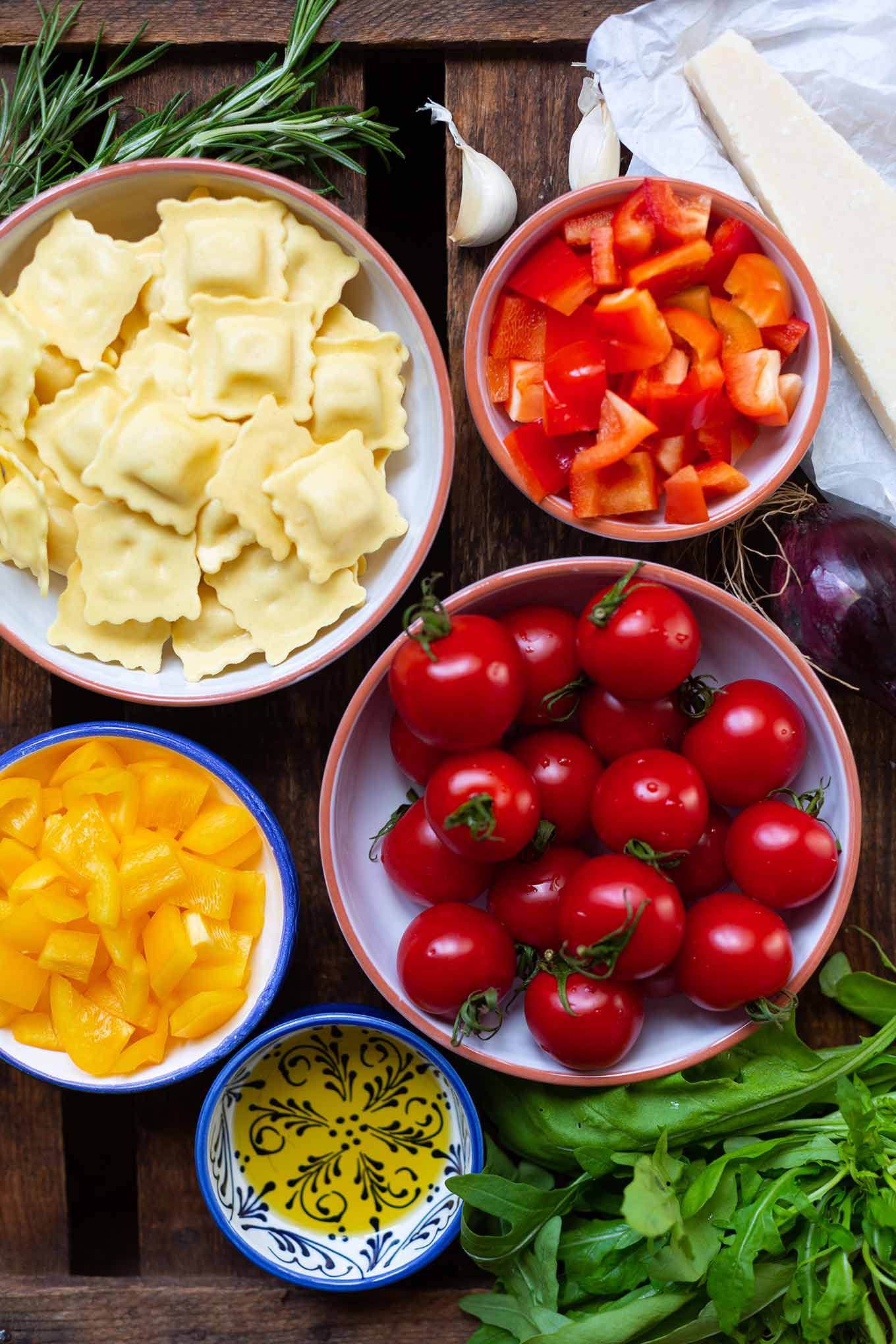 I hope you will love this recipe!
A tin ravioli with tomatoes, peppers and rocket is:
Super simple.
Hearty.
Spicy with rosemary, onions and knobs.
Prepared in 15 minutes.
Fast Soulfood on No desire to cook days.
For even more A tin inspiration I can give you Sesame Baked Potatoes with Green Asparagus and Feta , A sheet antipasti and Baked Potatoes with Pumpkin, Brussels Sprouts and Feta .
You tried this recipe? Then let me know! Comment, rate and do not forget to tag your photo on Instagram with #kochkarussell . Thank you, dear ones!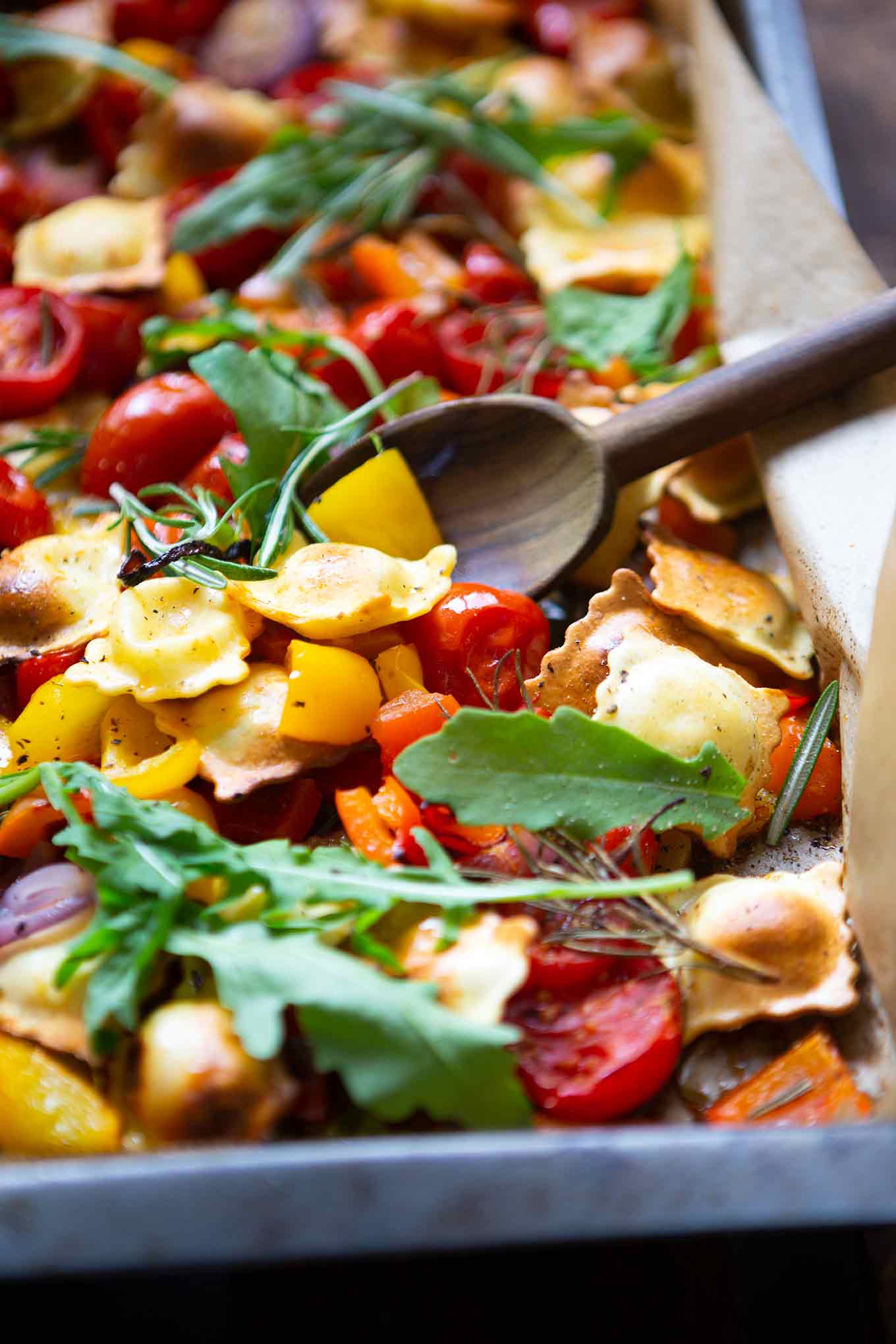 A tin ravioli with tomatoes, peppers and rocket
Court:

Main course
Countries & Regions:

Italian
Keyword:

A sheet, simple, noodles, oven
Ingredients
2




pepper




red and yellow

500




g




Tomatoes

1




Red onion

2




Garlic Cloves

250




g




Ravioli from the refrigerated counter




eg Four cheese

3




EL




Olive oil

1




small handful




Rosemary

1




Handful




Rocket

Parmesan for serving

Salt
Instructions
Oven on 200th Preheat degree of convection and fill baking tray with baking paper.

Wash the peppers, remove seeds and cut into bite-sized pieces. Wash tomatoes and halve. Peel onion and garlic and cut into thin slices.

Distribute vegetables and ravioli on the baking tray. Add olive oil and rosemary and salt well. Wash the rocket and spin dry.

Bake for 15 minutes, then mix once and bake for another 5-10 minutes. Enjoy with rocket and parmesan.