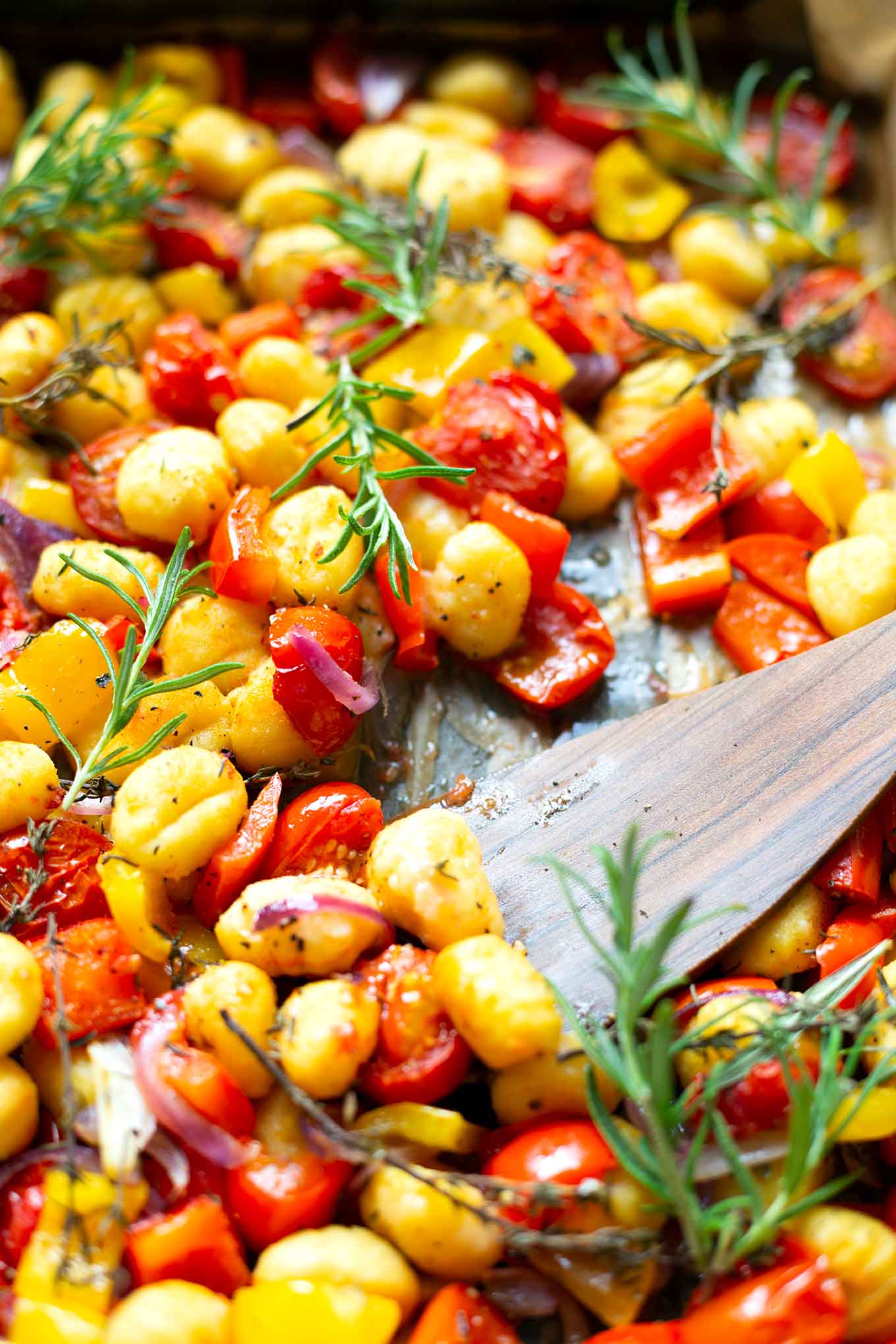 Advertising.
Quiz question: What's better than a dinner with all the pieces coming straight from the oven?
I betray you friends: Super practical A Tin gnocchi with tomatoes, peppers and red onions !
Because we are talking about fluffy gnocchi, which are wonderfully golden brown and crispy in the oven. There are melted tomatoes and peppers, soaked in good olive oil, garlic, thyme and rosemary. And because Parmesan just makes everything better, we treat ourselves on top still a decent load of cheese.
Life can not be better!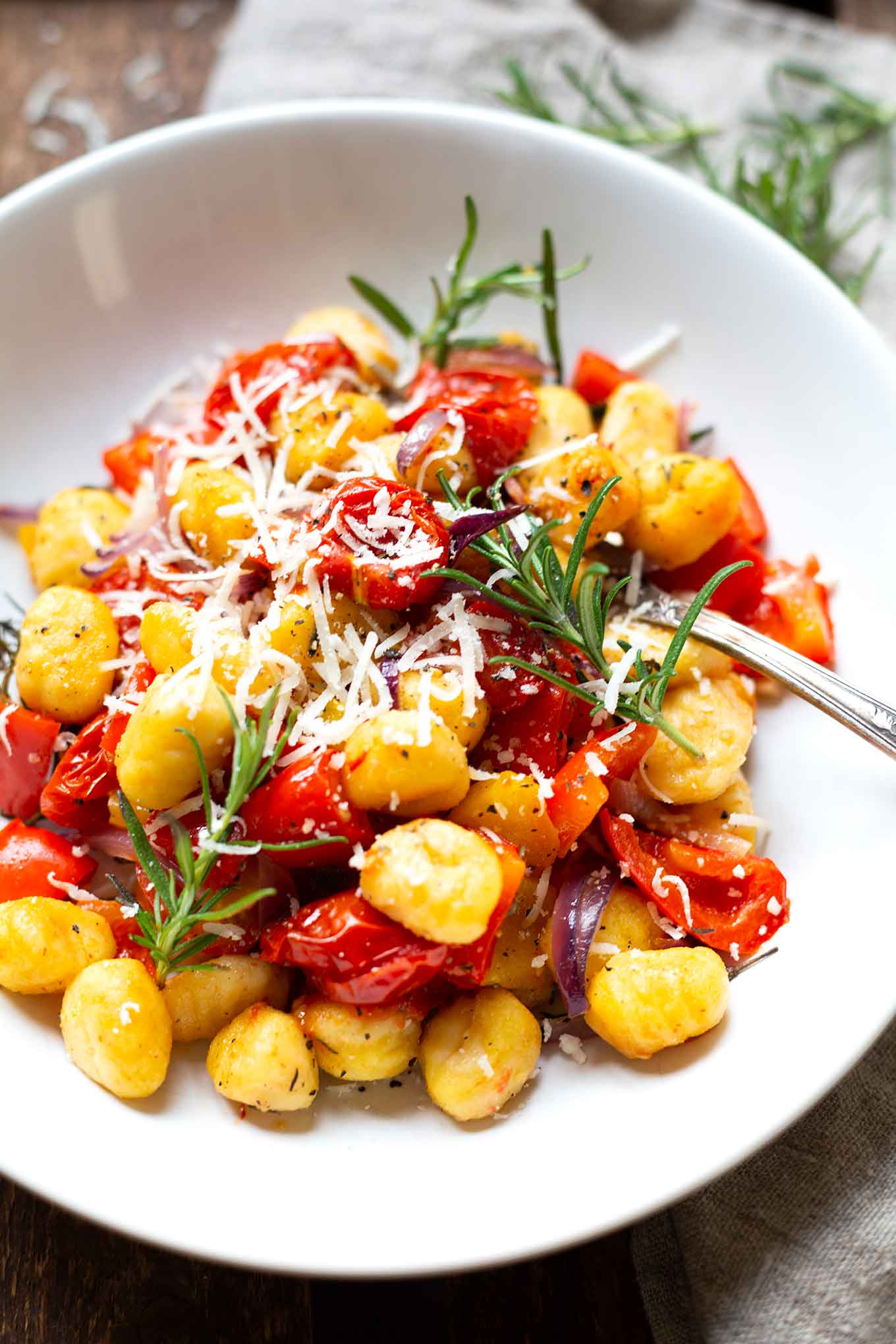 Could you smell it? That's right, I mean this aromatherapy of garlic, olive oil, rosemary and thyme.
And that's exactly what I love about the A Tin Gnocchi. They are so simple and yet incredibly good! Because you only need for the recipe:
Finished Gnocchi. The best of the refrigerated counter.
Tomatoes. I took cherry tomatoes and halved them again, so that the whole taste can escape in the oven.
Paprika.
Olive oil.
Onion and garlic.
Rosemary and thyme.
All the ingredients you schnibbbelt her, spread it on a plate, salt again a little and then nothing like off it in the oven!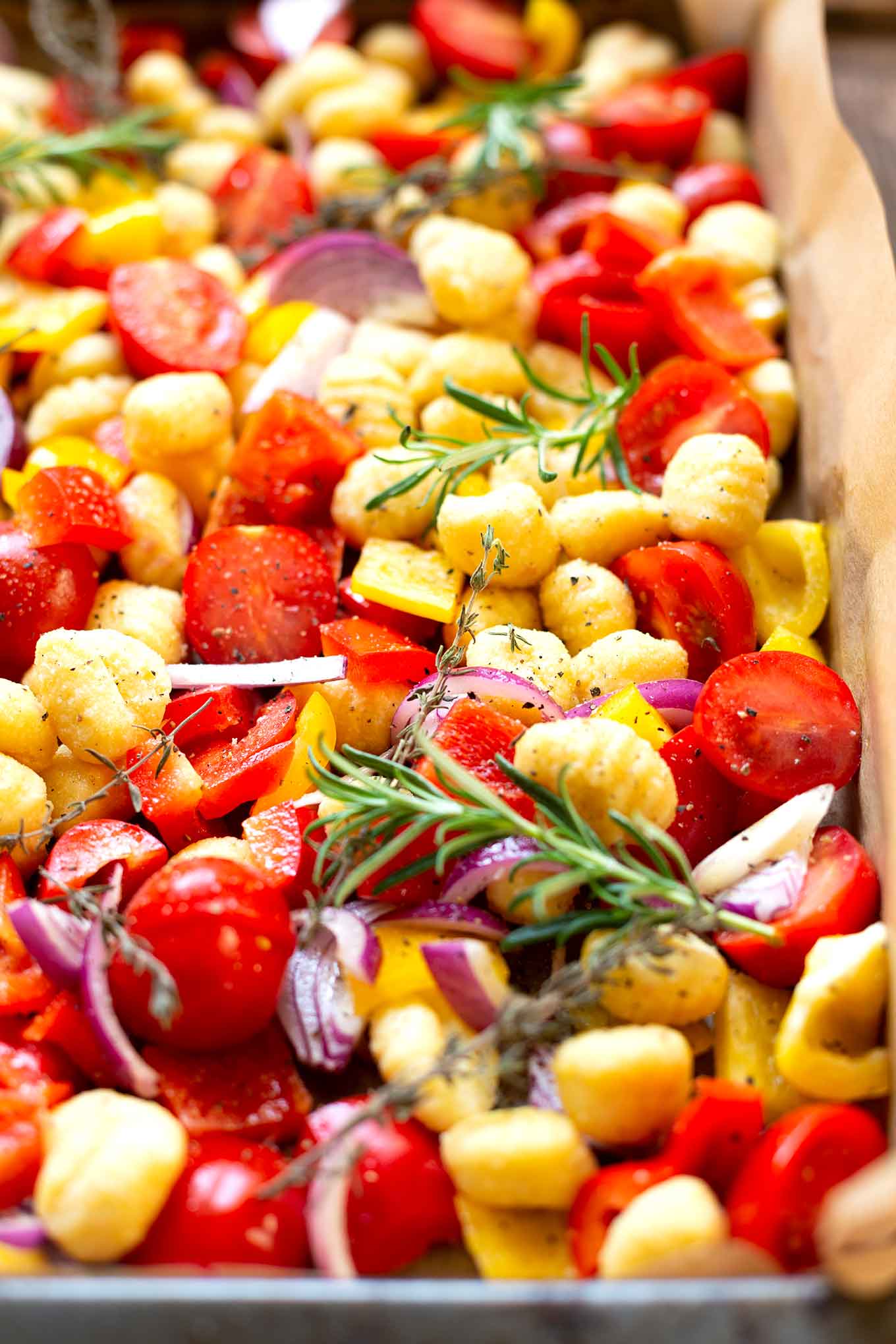 Ok, now we need to talk briefly about the story of this recipe.
Everyone who follows me on Instagram has probably already seen it: Last week here in the house of Kochkarussell pack shows the second episode of the new Youtube series Wine Chefs with good Les Grands Préaux Ventoux 2017 red wine and a fat cheese platter hosted. Because series that are about food and drink, are anyway the best, right?
Incidentally: Wine Chefs was made for wine lovers by the same production team that produced Kitchen Impossible. So you can imagine how awesome the series is. And I'll tell you so much: In the second episode, 2-star chef Hans Neuner visits the Perrin family, one of the leading winemaking families in France. There he has to create a dish to match the cuvee Les Grands Préaux Ventoux 2017, cooks for it in the world's most beautiful estate kitchen and gets to know the winemaking family personally. But I digress, best of all, you just look at it yourself here .
So. I wanted to develop a recipe for today that is super practical, tastes great and bombastic with which you can muckle with a glass of Vino Wine Chefs look on the couch. I had already thought of a baking recipe because they are so wonderfully simple. And when rosemary and thyme appeared as notes of the Vinos in the episode, it was clear: That's what it has to be!
Fluffy gnocchi, wonderful golden brown and crispy. With melted tomatoes and peppers, lots of good olive oil, garlic, red onions, thyme and rosemary. Perfect for the after work and to impress your friends to the series evening really. So, get there! 😉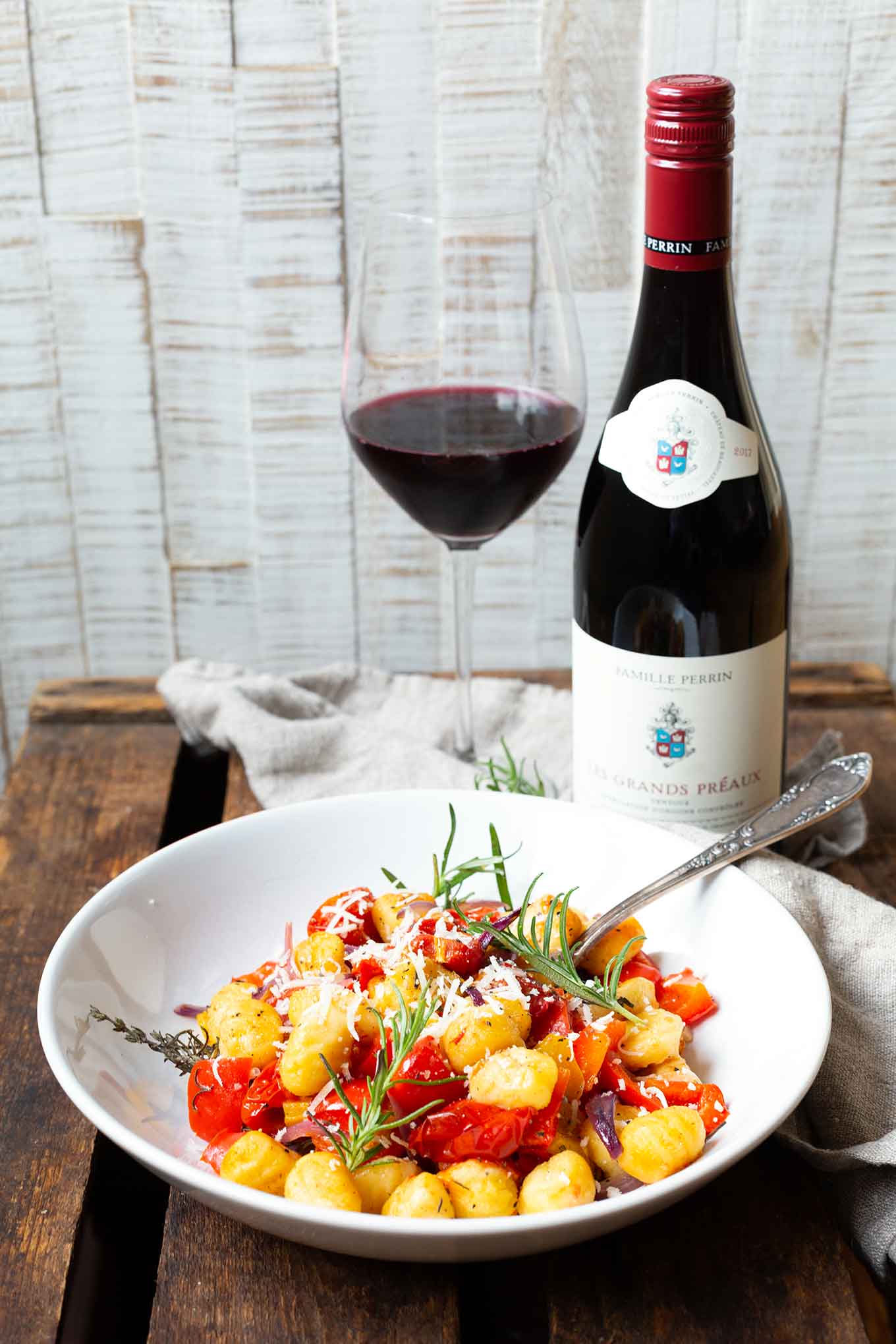 I hope you will love this recipe!
The A Tin Gnocchi with Tomatoes, Peppers and Red Onions are:
Super Simple.
Hearty.
Spicy with rosemary, thyme and garlic.
Prepared in 15 minutes.
The perfect dinner for the evening with the loved ones.
You tried this recipe? Then let me know! Comment, rate and do not forget to tag your photo on Instagram with #kochkarussell . Thank you, dear ones!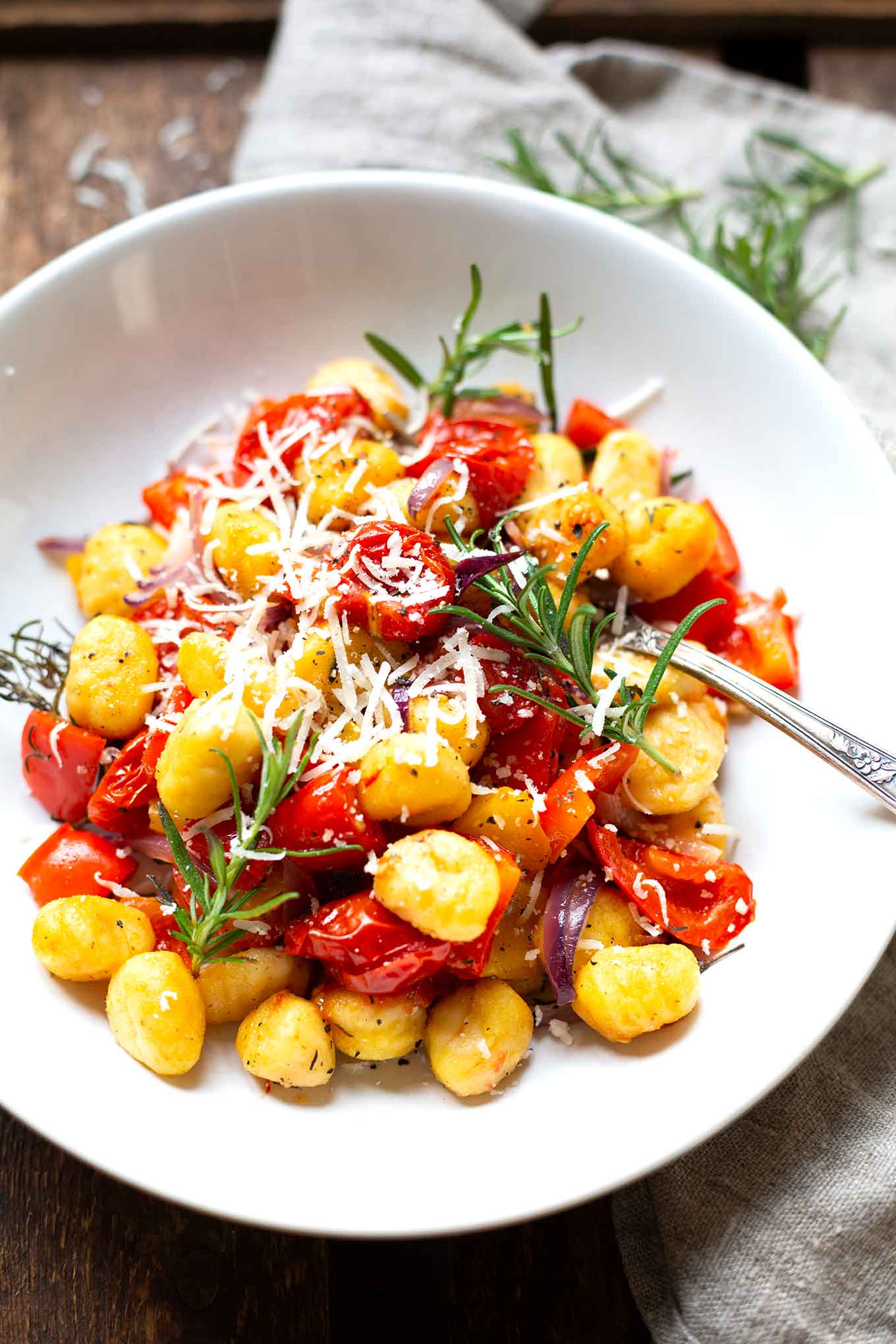 Print
A tin gnocchi with peppers, tomatoes and red onions
A tin gnocchi with tomatoes, peppers and red onions are awesome practical, fast and delicious!
Ingredients
2




Paprika




red and yellow

500




g




Tomatoes

1




Red Onion

2




Garlic Cloves

500




g




Gnocchi




from the refrigerated counter

3




EL




Olive oil

1




small handful of rosemary

3




branches thyme

Parmesan for serving

Salt
Instructions
Preheat the oven to 200 degrees Celsius and cover the baking tray with baking paper.

Wash the peppers, remove seeds and cut into bite-sized pieces. Wash tomatoes and halve. Peel onion and garlic and cut into thin slices.

Spread vegetables and gnocchi on the baking tray. Add olive oil and dried herbs and salt well.

Bake for 20 minutes, then mix once and bake for another 5-10 minutes. Enjoy with parmesan.
This promotional post was created in association with Friends of Wine . Many thanks to wine friends for the delicious cooperation.