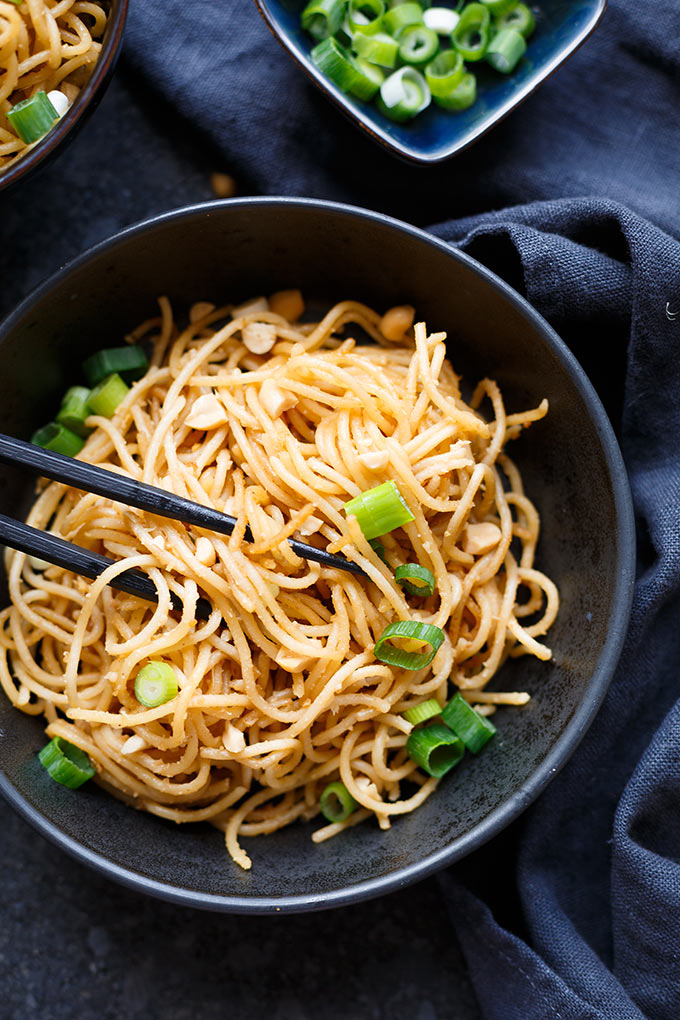 Advertising. This post contains affiliate links. If you order something through these links, I'll get a commission. The price remains the same for you, of course.

You're a peanut butter fan, thaifood addict, or looking for a cuddly, warm, creamy soulfood dish that will be on the table in 15 minutes?
Then try 15-minute spaghetti with spicy peanut sauce . Spaghetti cuddling in a creamy-peanut buttery sauce with ginger, soy sauce, garlic and a hint of maple syrup. Every fork full of spicy noodles made just to pamper us.
Seriously. You have to try that!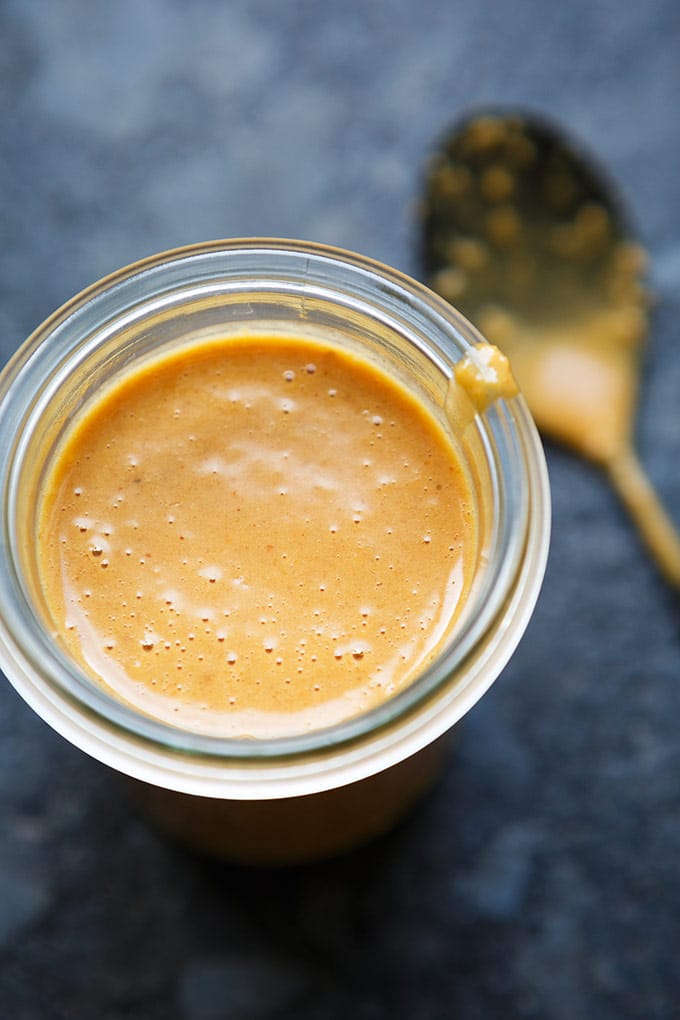 Currently I have two obsessions.
1. Peanut butter. How can it be that peanut butter makes EVERYTHING better? Warm toast with salty-sweet, slow-melting peanut butter. Apple slices dipped in peanut butter. No-Bake Chocolate Chip Cookie Dough with peanut butter. Spicy, thaifood-inspired spaghetti with the most delicious peanut butter sauce that is so simple that it almost makes itself.
2. Reading. At the beginning of the year I decided to read more in 2018. At least 20 books, to be exact. For somehow I have lost this beautiful, relaxing hobby over the last few years. Officially, I had so much on my mind that I had no time to read. But to be honest, if I can search through mass-produced series (including Chef's Table, The Good Wife, Bosch and Lucifer), then I can also take time to read, right? For that I like to save a little time here and there.
Which brings us back to spaghetti with spicy peanut sauce. I mean, honestly: 15 minutes for incredibly good, happy Soulfood. It could not be better. In addition, you only need a few ingredients for the noodles that you already have in the supply cabinet in 99% of the cases.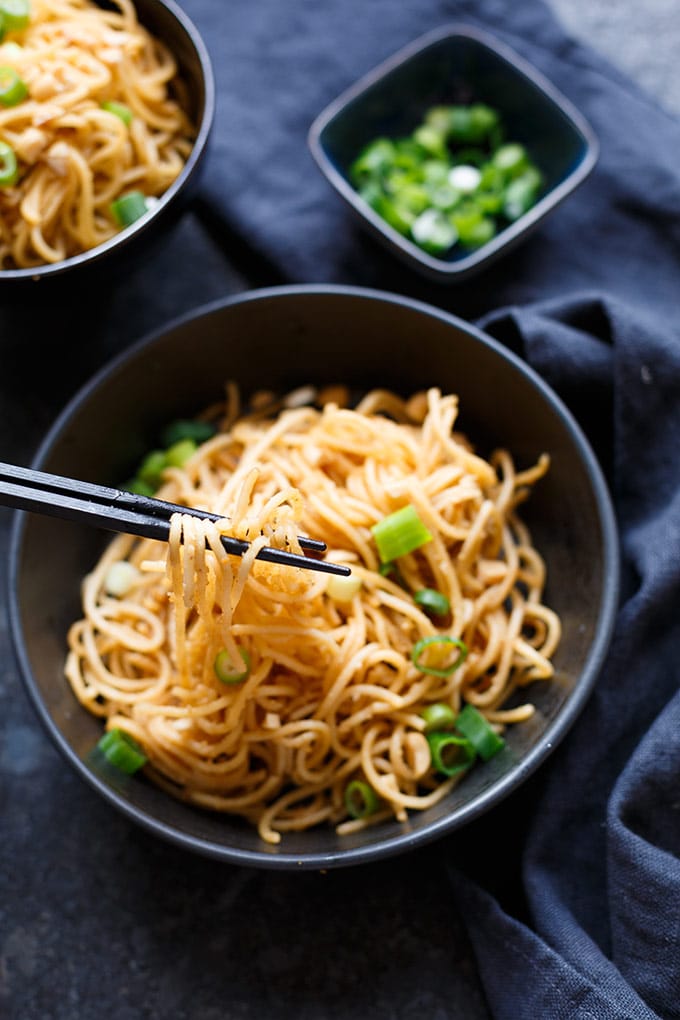 Convinced? Very well! Then I'll tell you how to pamper yourself quickly with a large portion of delicious 15-minute spaghetti with spicy peanut sauce.
1. Cook noodles
Cook spaghetti in plenty of salted al dente, the first step is done.
2. Mix the sauce
Give all the sauces ingredients (soy sauce, maple syrup, peanut butter, knobi, ginger and rice vinegar) into a blender and puree to a deliciously creamy sauce.
And because I am always asked for a powerful blender: I have been using this compact food processor for two years and can no longer imagine a life without the part. The is relatively cheap and has really done EVERYTHING. Energy Bites, soup, even nut butters. And you also get your wonderfully creamy pasta sauce with it. I mean yes, best mixer everrr .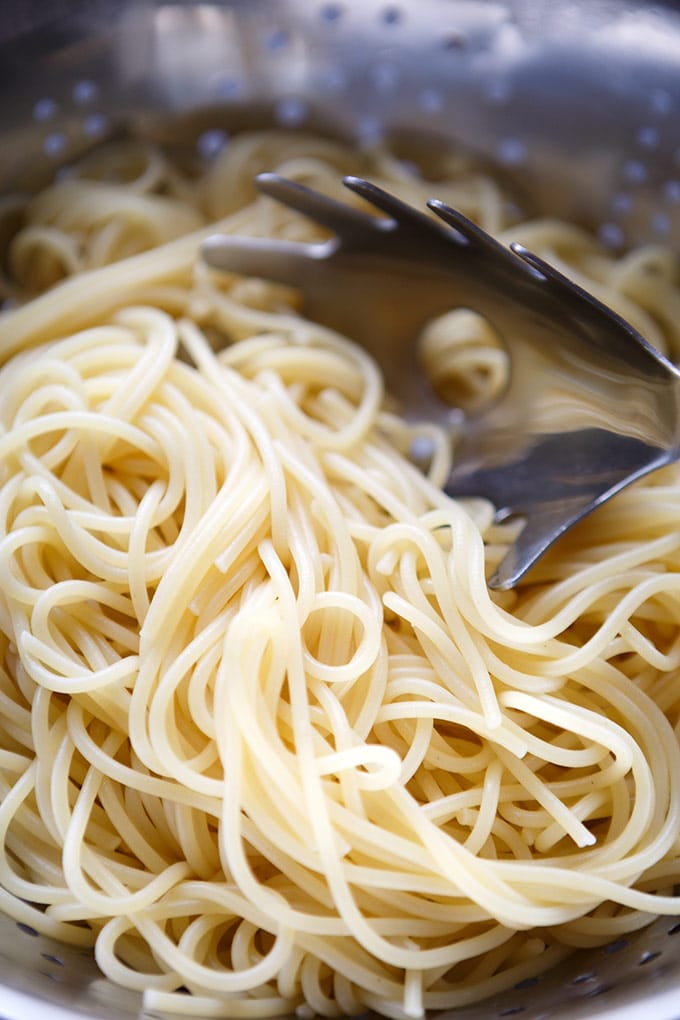 I hope you will love this recipe!
15-minute spaghetti with spicy peanut sauce are:
Hearty.
Creamy.
Peanut Buttery.
Wonderfully filling comfortfood.
Finished in fifteen minutes.
You tried this recipe? Then let me know! Comment, rate and do not forget to tag your photo on Instagram with #kochkarussell . Thank you, dear ones!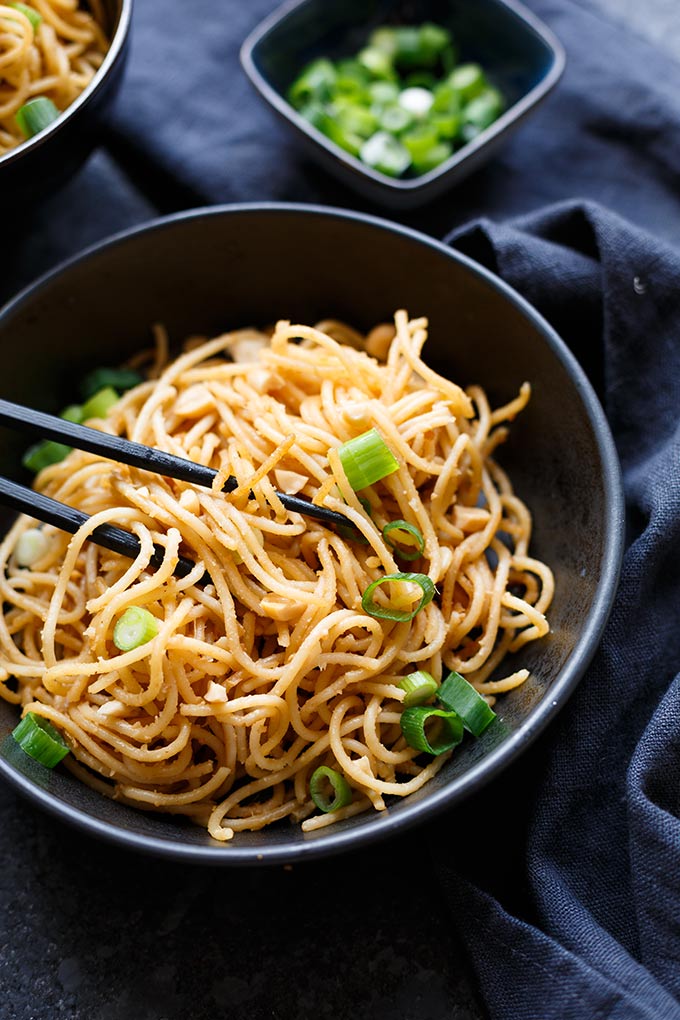 Print
15-Minute Spaghetti with Spicy Peanut Sauce
The 15-minute Spaghetti with Spicy Peanut Sauce is deliciously creamy and absolute soulfood !
Portions : 2 Large Portions
calories per serving : 760 kcal
Ingredients
250




g




Spaghetti

60




ml




soy sauce

30




ml




maple syrup

70




g




Peanut Butter Crunchy

1




Garlic clove peeled

1




thumb-sized piece of ginger peeled

2




EL




Rice vinegar

Optional spring onions and chopped peanuts
Instructions
[19459001 ] Cook spaghetti al dente as per package instructions.

In the meantime, add soy sauce, maple syrup, peanut butter, garlic, ginger and rice vinegar to a powerful blender. Mix until a deliciously creamy sauce is created.

Mix the spilled noodles with the spicy peanut sauce. Top with spring onions and peanuts and enjoy.
Mia's Tips
You do not have a powerful mixer? I can recommend this Food Processor . Otherwise, you can also mix the ingredients for the sauce with a whisk. All you have to do is chop garlic and ginger.